20th ANNUAL GARDEN FAIR
Saturday, April 18, 2015 - 9:30am-3:00pm
at Kaua'i Community College front lawn
The Biggest One-Stop Garden Shop on Kauai!
Special All Day Farmers Market
All Day Garden Talks & Demonstrations
Get your Free edible podded bean seeds and grow your own beans
Educational, Government & Non-profit Resources for Your Farm or Home Garden
Keiki Activities by 4-H and School Gardens
Ono Local Foods & Plate Lunches all Day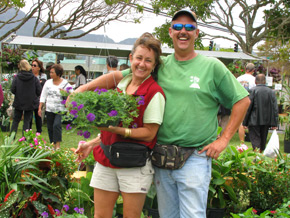 On Saturday, April 18th at 9:30am, the Kauai Community College front lawn will spring to life with gardeners, suppliers, garden lovers and consumers there to shop the wide variety of plants, landscape products and equipment, and to find out the latest gardening information and tips. Hosted by Kaua'i County Farm Bureau and University of Hawai'i College of Tropical Agriculture & Human Resources (CTAHR), the annual Kaua'i Garden Fair is one of the largest gatherings of green thumbs on Kaua'i and a great way to share the bounty of the island firsthand.



The Biggest One-Stop Shop for the Garden on Kaua'i
This one-day, free event begins with a "one-stop shop" for the garden, where a wide variety of tropical plants, flowers, produce and seeds will be available for purchase representing farmers, nurseries and organizations from around the island. Here you can surround yourself with what is Kaua'i Grown – cut flowers, plants and trees, produce and even food items and products. Look for the "Kaua'i Grown" signs and QR codes to learn more about some of the farms and nurseries behind the products or visit them at
www.kauaigrown.org
. 

The event caters to growers from novice to expert, celebrating gardening in all of its aspects. You'll find opportunities to network with organizations that assist gardeners and agriculture, stroll through the many information booths to learn what's new and swap tips.
View list of participants »

Free Bean Pod Seeds
Stop by the Kaua'i County Farm Bureau tent at the Garden Fair and pick up some free edible bean pod seeds. The podded beans can be entered in the 2015 Annual Fruit and Vegetable Show at the 2015 Kauai County Farm Fair in August. Entries will be accepted on Thursday, August 13, 2015, from 8:00 a.m. - noon at the Fruit and Vegetable tent exhibit area of the fairgrounds. Click here for General Information and Rules of the Fuit and Vegetable contest.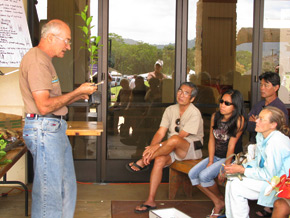 A day long schedule of "Garden Talks" hosted by University of Hawaii College of Tropical Agriculture provides opportunities to learn about a wide range of gardening topics from organic gardening, edible ornamentals, free range chickens & eggs, and insect & plant disease problems. If you have a specific problem, you can visit the Agricultural Information booth to speak with experts, purchase UH seed varieties or pick up free bean seeds and growing tips for this year's Farm Fair Fruit & Vegetable Show and Contest.
View Garden Talks schedule »



Keiki Activities
For keiki, the 4-H kids area is a highlight that can't be missed – with a mini petting zoo, hosted play area for toddlers, and planting activities to introduce little ones to the garden. It's also a chance to meet some of our "future farmers" - students learning about gardening and agriculture from elementary to high school level.

View Keiki Activities »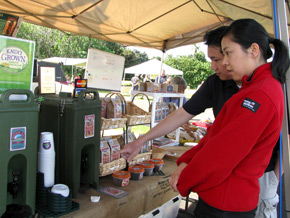 Special All Day Farmers Market & Ono Local Foods
The weekly Kaua'i Community Market will team up with the Garden Fair and extend its hours for the day – reminding us of the delicious end product of these home grown efforts. This expanded farmers market features a wide range of Kauai Grown fruits and produce as well as value added agricultural products straight from the farm like honey, goat cheese and coffee plus a wide variety of freshly baked goods, smoothies and local treats like kulolo and mochi. Expect a diverse array of breakfast and lunch items with choices like Puerto Rican tacos, Hawaiian plate lunches, Filipino family specialties, taro burgers, and fresh fish wraps.

The Garden Fair is a special time when we have an opportunity to interact with the tremendous variety of people who fit under that large tent called agriculture. Community sponsors of the Garden Fair include: Grove Farm, Growing Greens now Makaleha Nursery, Orchid Alley, Kauai Nursery & Landscaping, Tropical Flowers Express and Heavenly Hakus, Hawaiian Orchid Source, DuPont Pioneer, Kawamura Farm Enterprises, Syngenta Hawaii, Barkaroo Bakery, Salty Wahine, Moloa'a Bay Coffee with Ti Leaf & Taro, and The Ag Lab. The event could not be done without the support of Kauai Community College, who is also the co-host of the Kaua'i Community Market.

Event Contacts
Sandi Kato-Klutke, Administrative Coordinator
Kauai County Farm Bureau
admin@kauaicountyfarmbureau.org
(808) 855-5429

Dr. Russell Messing
Interim County Administrator,
College of Tropical Agriculture & Human Resources (CTAHR)
messing@hawaii.edu   |   (808) 274-3471