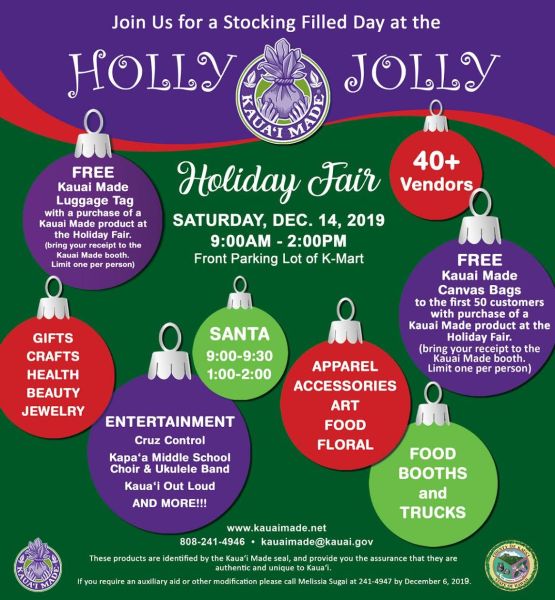 2019 Kauai Made Holly Jolly Holiday Fair
Saturday, December 14th, 2019 at 9:00 am
–
2:00 pm
|
FREE
Come join us for a Jolly day of finding your favorite certified Kaua'i Made products – sure to delight anyone on your list! We will have holiday gift sets and treats, along with fresh brewed hot and iced coffee!
Kaua'i Made Holly Jolly Holiday Fair set for Dec. 14
The public is invited to attend the Kaua'i Made Holly Jolly Holiday Fair on Dec. 14 at the front parking lot of the former Kmart store, from 9 a.m. to 2 p.m.
Attendees will be able to shop for locally-made products, enjoy local entertainment, get their visit with Santa, as well as enlist the help of a Kaua'i Made holiday helper who will offer gift ideas.
The Kaua'i Made program was launched by the county in 2006 with support from the Hawai'i Tourism Authority. The aim of the program is to provide locally-made products with more visibility and encourage production of value-added agricultural products. A wide range of these products are available through the program including apparel and accessories, artwork, crafts, food, floral, health and beauty, jewelry, publications and more.
For more information, please contact the Office of Economic Development at 241-4946 or send an email to msugai@kauai.gov.
If you need an auxiliary aid/service or other accommodation due to a disability, contact Melissia Sugai at the number and email above as soon as possible. Requests made as early as possible will allow adequate time to fulfill your request. Upon request, this notice is available in alternate formats such as large print, Braille, or electronic copy.
Event Location: