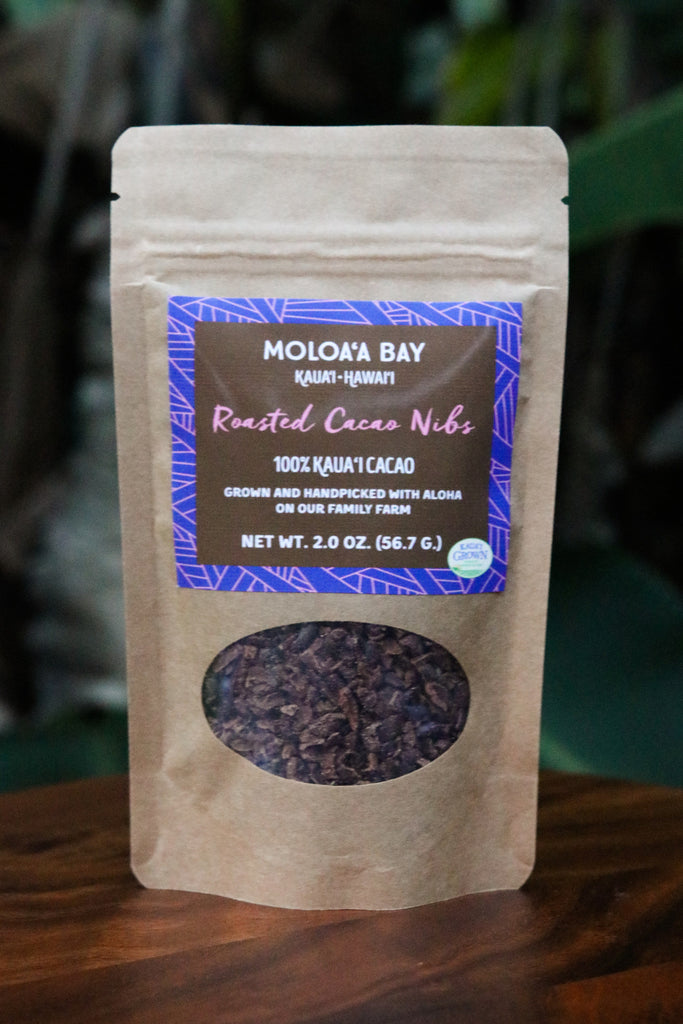 Moloa'a Bay Chocolate Roasted Cacao Nibs are 100% pure chocolate grown on the north shore of Kaua'i! Hand-picked on our Moloa'a Bay farm, then fermented, sun dried, roasted, and packaged at our solar-powered facility in Kapa'a. After we roast our cacao beans, we use a machine called a winnower to separate the nibs from the outside skin (husk). The resulting nibs have a tangy, slightly bitter dark chocolate taste, which makes it an ideal ingredient to be used in both sweet and savory recipes. No sugar has been added, making it a healthy way to enjoy the delicious taste of chocolate, as well as chocolate's anti-aging antioxidants, magnesium, iron, and fiber, among many other benefits.
There are so many ways to enjoy roasted cacao nibs:
Sprinkle on top of ice cream, yogurt, or a smoothie bowl

Blend into a smoothie for a healthier version of a chocolate smoothie or milkshake

Replace chocolate chips with cacao nibs in cookies and other desserts

Mix in to granola or muesli for a crunchy, chocolate flavor

Incorporate into a crust for a savory entree (see this recipe for cacao nib and fennel encrusted pork tenderloin)

Grind to a powder to use in a sauce (chocolate is one of the key ingredients in Mexican mole sauce)

Make a cold brew cacao drink
Available in 1 oz., 2 oz., 4 oz., and 8 oz. stand up gusseted kraft paper bags with zipper lock, heat sealed. Includes desiccant packet to reduce moisture. Limited quantities available. Please contact us if you would like to place a larger order.
*2 oz. bag is pictured here*