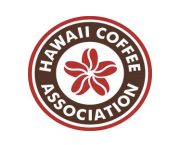 Moloa'a Bay Coffee has been named Kaua'i District Winner at the Hawaii Coffee Association's 10th Annual Statewide Cupping Competition! Our Moloa'a Camp Coffee received top honors in our district with a score of 82.5, and our Moloa'a Bay Coffee - Honey Process received a score of 81.2. 
We are pleased to share that this qualifies our coffee as a specialty coffee that ranks #1 and #2 on Kaua'i, and in the top 25 in the state of Hawai'i. This was our first year submitting our Moloa'a Bay Coffee - Honey Process, which has been a bestseller over the past year. Our Moloa'a Camp Coffee has also been the recipient of first place in the Kaua'i District in 2009, 2010, 2011, 2013, and 2018.
--
From the press release:
In the cupping competition, 92 entries from growing districts located across the state competed for top honors. The top-scoring coffee was produced by Monarch Farms in Kona with a Geisha variety coffee processed with wine yeast, and receiving a score of 85.5. The 2nd place coffee was a variety known as Jeni-K and produced by Greenwell Farms with a score of 85.25.

The highest scoring entries from other participating Hawaiian coffee origins also earned honors including Ka'u District's Silver Cloud Coffee Farm, Maui Mountain Coffee Farm, Hamakua's OK Farms, O'ahu's Hawaii Ag Research Center, Hawai'i's Second Alarm Farm, and Kaua'i's Moloa'a Bay Coffee.
Kona-based Pacific Coffee Research Center organized this year's competition using qualified local judges and the standard SCA cupping methodology and scoring format. PCR Cupping Committee Chair Brian Webb noted, "It is inspiring that so many Hawai'i coffee producers are striving to make coffee better; whether by exploring experimental processing techniques, unique varieties, or other innovations. The future of Specialty Coffee in Hawai'i looks very bright."
--
Mahalo to the Hawai'i Coffee Association for the opportunity to participate, and for their work to strengthen and promote Hawai'i's coffee industry!
Read More: