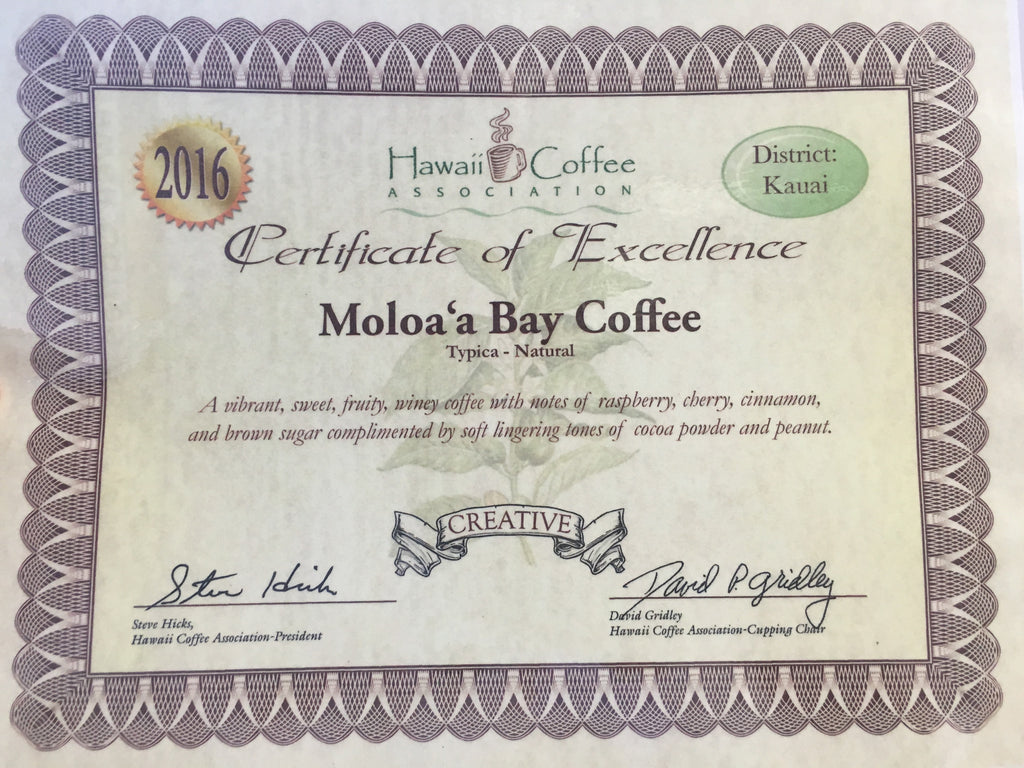 Moloa'a Bay Coffee has been named the Kaua'i District winner at the 8th Annual Statewide Cupping Competition hosted by Hawaii Coffee Association July 13-15, 2016 in Kona, Hawai'i. 
83 entries from districts around the state competed in two categories: Creative and Commercial. Our entry, our natural process Moloa'a Camp Coffee, was entered into the Creative category, and scored 83.1. We are pleased to share that this qualifies our coffee as a specialty coffee that ranks #1 on Kaua'i, and #14 in the entire state!
Final Results:
Overall Rank: 18 / 83
Division Rank: 14 / 58
Cupping Score: 83.1
Along with a score, we received feedback on the coffee's characteristics that was gathered during the cupping competition. 
"A vibrant, sweet, fruity, winey coffee with notes of raspberry, cherry, cinnamon, and brown sugar complimented by soft lingering tones of cocoa powder and peanut."
Mahalo to the Hawaii Coffee Association for the opportunity to participate, and for their work to strengthen and promote Hawaii's coffee industry!
Read more: 
2016 HCA 8th Annual Cupping Competition Results
West Hawaii Today: Hawaii Coffee Association hosts annual conference, cupping competition