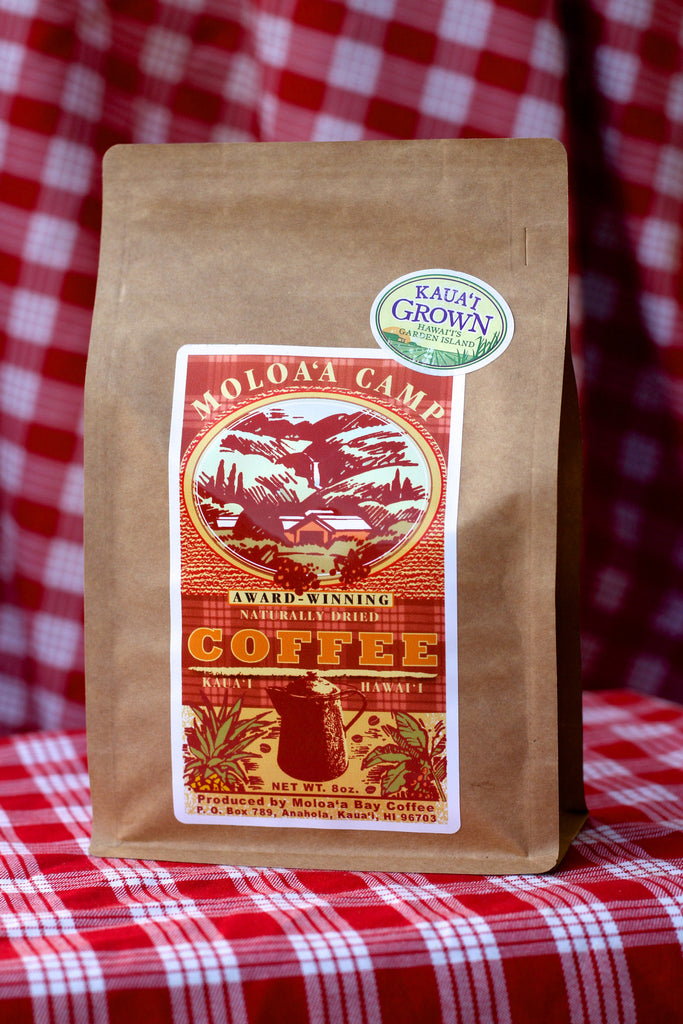 Kaua'i District winner of the 10th Annual Statewide Cupping Competition by Hawai'i Coffee Association!*
A customer favorite, Moloa'a Camp Coffee (Typica variety) is made using a process often called natural process, or dry-processed coffee. This labor intensive process is the oldest method of processing coffee, and is a deceptively simple process. Simply stated, after we hand-pick our ripe Typica coffee cherries, we lay them out and rake through them continually for 6-7 days. During this time, the bright red coffee cherries dry out, shrink, harden, and darken in color. This allows some of the taste and sugar from the fruit to infuse into the coffee cherry, which results in a coffee described as:
"A vibrant, sweet, fruity, winey coffee with notes of raspberry, cherry, cinnamon, and brown sugar complimented by soft lingering tones of cocoa powder and peanut."
During the drying process, the cherries can easily remain too wet in our humid climate, and result in a bad batch. To avoid this, we make very small batches at a time and pay close attention to the moisture content. Once dry, we store the beans, then when we're ready to roast, we remove the skin to reveal the green bean underneath. We finish the beans to a medium roast. 
We are pleased to share our award winning coffee with you!
*Previously awarded in 2009, 2010, 2011, 2013, 2016
Available: Whole Bean or Ground; Size: 2 oz, 4 oz, or 8 oz
If a product is showing "Sold Out," please contact us as we may have a small quantity available
(Bag in main image is 8 oz.)